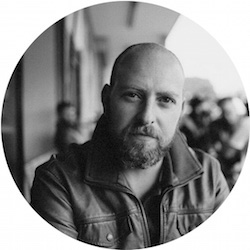 Dan Brett Rosenthal was born in 1982. He lives and works in Johannesburg, South Africa. He is an artist and photographer, and also works as a cinematographer, illustrator, designer, musician and writer.
Dan holds a Bachelor of Arts degree in Philosophy and an honours degree in English Literature from WITS University in Johannesburg.
Dan has worked as an artist since 2005. His work focuses on examining notions of identity, man's surroundings and the influence these two ideas have on one another. These areas of investigation are influenced by his background in literature and philosophy. He has worked on a variety of long-term projects that examine the city as a factor in social and personal issues. His work on cityscapes and identity includes drawings, lino prints, oil on canvas, digital art and photography and encompasses series such as little house BIG HOUSE, The Vacant Heart, Utopia, and a range of photography of Johannesburg's city streets with particular focus on Norwood and Louis Botha Ave, areas in which Dan lives and spends a lot of time researching and documenting. The natural South African landscape is also a focus which contradicts and nicely contrasts the urban landscape. Dan's work sells regularly in galleries and design shops in Johannesburg.
He also writes extensively on the city and issues of identity, in both prose and poetry.
Dan Rosenthal Studio is an established commercial professional photography studio with a wide base of clients. Dan has recently shot the winter 2017 campaigns for South African fashion labels Cutty and Jonathan D. These campaigns have been run across above- and below-the-line media including billboards on major highways and large format print displays. 
His clients include
CUTTY, Jonathan D,
WITS University, The Cambridge University Press, Tatuka, Graham's Fine Art Gallery, 32 Clothing, Cedarwoods of Sandton, 3S Media, Joburg Style and Nubian Bride
. Dan specialises in fashion, portrait, product, architectural and location imagery. 
He also works in video, having shot work ranging from music videos to interview footage for brands, and has worked on local series and motion picture productions.
Please contact Dan directly with enquiries about art and commissioning him for a project.
His interests include motorcycling and his scooter (The Silver Fox), cinema, mechanical cameras and watches, playing the guitar, fine whiskey (especially bourbon), cigars, his pipe, and cooking.